Artistic installation in the gardens of the citadel on the theme of insularity by Laetitia Carlotti & the association Arterra.
Creation of a vegetal labyrinth of 14 m on 24 inspired by the shape of a QR code.
The association ArterrA works for the development and dissemination of contemporary artistic practices within the Corsican landscapes since its inception in 2012, by going to meet a wide audience and establishing a relevant dialogue between the work and the place where it fits. The theme of the island(s) is for ArterrA the opportunity to respond concretely to its objectives, the island being the place of its commitment.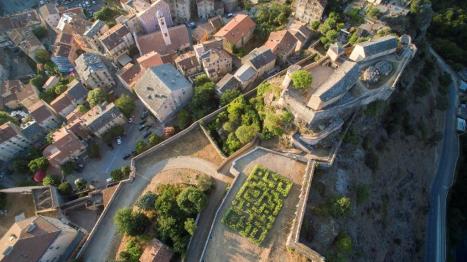 At the crossroads of the labyrinth responds without detour to the theme of the island(s) and refers to the question of island landscapes. In this artistic project, a vegetal labyrinth composes with the different perspectives of the surrounding landscapes, the architecture and the vegetable gardens below. Conceived as a spatial experience, it allows to appreciate the situation of the Museum in all directions.
The artist and landscape worker Laetitia Carlotti, commissioned by the association ArterrA, cultivates the space of the esplanade – downstream from the eagle's nest – by creating a maze of corn from a variety of locally adapted grains. Offered by the association eco natura (http://econatura.free.fr), it is sown in a mixture with drought-resistant South American varieties (Kokopelli & Graines del Païs) that recall the geographical origin of this cereal.
The traced pattern results from the creation of a QR code modified according to the terrain of implantation to create a labyrinth. This process illustrates the contradictory realities of the dynamics of spatial planning: "A map is not the territory" (Alfred Korzybski) but can serve as a landmark to orient oneself in "the garden of branching paths" (Jorge Luis Borges). The motifs of the labyrinth are transposed to other places by the planting of immortals, the first steps towards the enhancement of outdoor spaces through the sustainable implantation of local and endemic species.
Time is at the center of this theme, a non-existent center in this labyrinth.
At the interface of the making of images and concrete spaces, the work does not reside in a single object but in the creation of multiple realizations, ramifications of a single project (QR- photographic animation, labyrinth and plantations…).
The conditions of implementation of the project are of an experimental nature and proceed from rudimentary practices which take up the challenge of the constraints specific to agriculture.