In 2013, the museum had the opportunity to focus on a body of objects related to its temporary exhibition dedicated to Corsica and music, and to carry out various interventions of curative conservation and restoration on musical instruments.
PLAYER PIANO – 1904 (BEFORE)
Wood, metal, leather, paper | 150 x 108 x 50 cm | Museum of Corsica – 2000.1.1
This piano had been the object of strong infestations of xylophagous insects, having led to its weakening. Many parts of the piano were completely emptied of their material from the inside, fractured, or even in debris following these infestations. The museum of Corsica has scheduled the intervention of restorers cabinetmakers, Mr. Duvieuxbourg father and son, for treatment operations, solidification of wood and presentation of the object.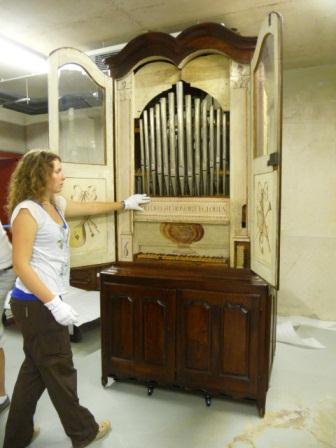 ANTON GIUSEPPE SALADINI ORGAN – SPELONCATO, FIRST HALF OF THE 18TH CENTURY
250 x 122 x 76 cm | Wood, metal, leather | Museum of Corsica – 1997.8.4
The choice of the Corsican Museum concerning the Saladini organ was the restoration of the piece of furniture itself, without taking into account its possible organological problems. Two young restorers recently graduated from the INP (Institut National du Patrimoine), Justine Sacleux and Lise Bastardoz, have intervened for a refixing of the polychromy and the careful cleaning of the constitutive elements of its mechanism. In addition, the intervention of two cabinetmakers, Mr. Duvieuxbourg father and son, allowed the repair of the foot as well as the realization of a base to distribute the load of the furniture.